In this article, I'm sharing my experience hiring Thorough Cleaning service via Gawin.ph.
Before year 2018 ended, apart from doing the annual Holiday Shopping for my loved ones, I also planned of welcoming the New Year with a clean and comfortable home.

We officially moved-in last 2016 and ever since then, we haven't had the chance to do some deep-cleaning around the house although I was able to maintain its cleanliness in the best way I could.
However, my level of cleaning was no match to professional cleaning, especially when it comes to maintaining the cleanliness of the bathrooms.

Then I remembered the services offered by Gawin.ph.
---
Gawin.ph is the leading marketplace for professional services.
It provides a faster and more reliable way of hiring services which range from pest control, cleaning, plumbing, electrical, aircon cleaning and services, interior design, home repair and maintenance, home renovation and improvement, moving services, catering, up to gadget and appliance services and repair.

I was able to try their moving services back in 2016 when I needed to move from Manila to Paranaque.
I had a pleasant experience that's why I kept this marketplace for future needs.

So last December 12th, I decided to book for Thorough Cleaning.
I was planning to make this a yearly thing so I really wanted to see if I could get a commendable service from them.

And they did not disappoint.
---
Booking the Service
Booking the service or appointment is very easy.
I just logged on to their official site Gawin.ph from my mobile phone and answered some questions to help them determine my requirements (i.e. What service is needed, Where I need it, etc.).

NOTE: You can also download the Gawin.ph app which is available for both IOS and Android.

I chose their Thorough Cleaning service because I needed an extensive cleaning process with the use of professional cleaning materials.
Unlike basic cleaning, the rate for Thorough Cleaning depends on the size of the house (floor area in sqm).

See the rates below.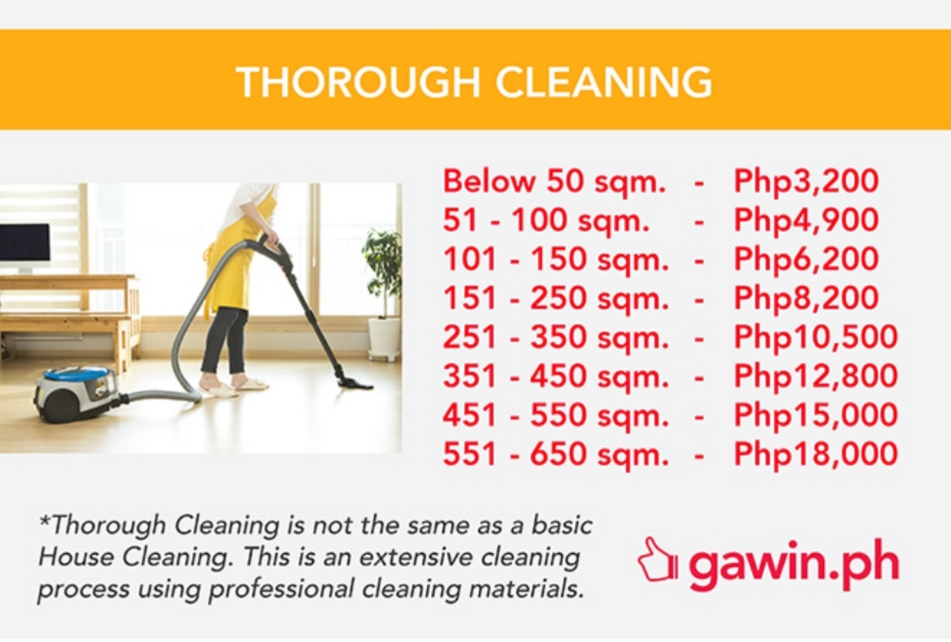 Thorough Cleaning includes sweeping, mopping, vacuuming, scrubbing of floors and walls, cleaning of bathrooms, wiping of table and cabinet surfaces, and air purifying.

Additional charges may apply if applicable (i.e. cleaning time extension, cleaning of fans, ovens, washing machines, refrigerators, lighting fixtures, and other appliances, any request for special cleaning solutions, and if you would require more comprehensive stain removal).

You can freely discuss these items with the vendor who would reach out to you upon submitting your request.

NOTE: At least 3 days advanced notice is required to book the job with the service provider so if you need the service within the next 48 hours upon booking, additional P200.00 charge would be applied.
---
My Experience with the Thorough Cleaning
Booking for Thorough Cleaning
I booked the service on December 12th for the December 30th cleaning schedule.
That same day, I received an email notification from Gawin.ph stating that they have found a vendor (Brightside Cleaners) and someone from the vendor reached out to me via text to confirm my requirements.

During the exchanges, I was informed that the transportation fee was not yet included in the rate that's why I was asked if it would be okay for me to pay extra to cover.

The cleaners would be bringing and using their own cleaning equipment and solutions so they would need to have their own ride.
I believe they used the fee to pay for Grab rides to and from our house.

I confirmed that I was fine with it.

After confirming and closing the deal, they then asked me to reply with my complete home address.
The Day Before
The day before the scheduled cleaning, I received another text from the vendor (same number) just to remind me about the cleaning schedule for tomorrow.
I was again asked to confirm so they could start arranging everything post my confirmation.

After sending them my confirmation, I received another message containing the names of the cleaners (first and last name).
They do this for security reasons and just in case a gate pass would need to be secured.
On the Day Itself
The schedule of cleaning was at 10am and at 9am I received an SMS from the vendor stating that the cleaners were on the way, also mentioning the place the cleaners would be coming from (to set expectations).

The cleaners arrived 15 minutes earlier than the schedule.
I believe that's an SOP so they could unload all the cleaning equipment and solutions and prepare for the job as early so they could start at exactly 10am.

3 cleaners arrived as expected.
One of them seemed to me like a "Team Leader" because she mainly provided the directions and instructed the other cleaners about their overall approach while she's actively doing the cleaning also.

They all seemed nice and professional.

They started cleaning the 2nd floor and then had a lunch break before starting to clean the 1st floor.
They had packed lunch that's why we did no longer need to prepare food for them.

Their cleaning approach was really organized.
I could also tell that they're meticulous as they wanted to leave every surface without any spot of dirt.
They knew what they're doing so I did not need to give them a lot of instructions every now and then.
I just watched them do their job.

Each one of them has his/her own business to mind.
One of them was assigned to cleaning the bathrooms.
My house has 3 bathrooms and 1 powder room but she managed to clean them all flawlessly.

The cleaning lasted for almost 6 hours and everything was spotless.
All 3 cleaners were also very accommodating to my requests and help need (i.e. cleaning of the ceiling fans, slightly fixing the bed frame, vacuuming an extra carpet — at no extra cost!).

Right after the cleaning, their Team Leader issued me a receipt showing the amount as we discussed.
I paid in cash and then they packed and waited for their Grab car to arrive.
Then they said goodbye and left.

It was that simple!

Then later that day, I received another text message from the vendor asking me about my experience.
Of course, I happily replied saying, "I was very satisfied!"
The Verdict
All in all, I was very happy with the service.
It wasn't cheap but at least I got the level of service I was expecting from professional cleaners.

After all, the price wasn't bad for a yearly thorough cleaning to welcome the New Year with a fresh and comfortable home for me and my family.

I was very happy because the rooms smelled like citrus and mint after the cleaning.
And the bathrooms? Well, I got very excited because they smelled like brand new, especially the one inside the Master Bedroom.

I even felt nostalgic because I got reminded how it used to smell when we just moved-in last 2016 LOL!
But apart from the result, I was also happy because all of the cleaners were trustworthy.
Nothing was missing although I wasn't doing the rounds 100% of the time.

However, of course, for activities such as this, it is always recommended that we guide our belongings and valuable possessions in order to avoid any mishaps from happening.

After all, prevention is always key.

And because of all of the things I mentioned, Gawin.ph would definitely hear back from me!
---
How about you?

Have you also tried any service from Gawin.ph?

How was your experience?

Let us know in the comments.
---
For more stories and information please:
– click Pieces to see all the articles in this blog
– like Piece of Mind Facebook Page
– subscribe to my SimpliciTine YouTube channel
Follow, Like, and Subscribe!