Find out here all the latest happening and news about Piece of Mind and its creator, Christine Musa.
LATEST NEWS!
October 27, 2022: Piece of Mind Journal of a Healed Heart Volume 2 is OUT NOW!
My 3rd non-fiction book entitled, "Piece of Mind: Journal of a Healed Heart Volume 2", is now available in Paperback, e-Book, and Flipbook formats. It is also available on my Shopee bookstore, together with the previous ones I have published to date.
Visit my 𝗣𝗶𝗲𝗰𝗲 𝗼𝗳 𝗠𝗶𝗻𝗱 𝗦𝗵𝗼𝗽 to check out the complete catalogue of my original books and digital releases.
---
June 4, 2022: From EDSA GMA Kamuning last year, to C5 Libis (North Bound) this year😊
Happy to share the spots with my fellow authors, both local and from different geographies.
LED Billboard displays will be flashing from June 4th to June 10th along the following locations:
✅️ C5 Libis (North Bound)
✅️ EDSA GMA Kamuning
✅️ Katipunan Whiteplains (North Bound)
---
April 27, 2022: I finally received my trophy and certificate of recognition as a winner of the "𝗕𝗲𝘀𝘁 𝗘𝗺𝗲𝗿𝗴𝗶𝗻𝗴 𝗔𝘂𝘁𝗵𝗼𝗿 𝗼𝗳 𝘁𝗵𝗲 𝗬𝗲𝗮𝗿" award under the non-fiction category for my latest book, "𝗣𝗶𝗲𝗰𝗲 𝗼𝗳 𝗠𝗶𝗻𝗱: 𝗝𝗼𝘂𝗿𝗻𝗮𝗹 𝗼𝗳 𝗮 𝗛𝗲𝗮𝗹𝗲𝗱 𝗛𝗲𝗮𝗿𝘁 (𝗩𝗼𝗹𝘂𝗺𝗲 𝟭)".
The nomination was announced in December of last year in time for the upcoming 𝗝𝗮𝗶𝗽𝘂𝗿 𝗟𝗶𝘁𝗲𝗿𝗮𝘁𝘂𝗿𝗲 𝗙𝗲𝘀𝘁𝗶𝘃𝗮𝗹 𝟮𝟬𝟮𝟮 which was cleberated in hybrid mode last March.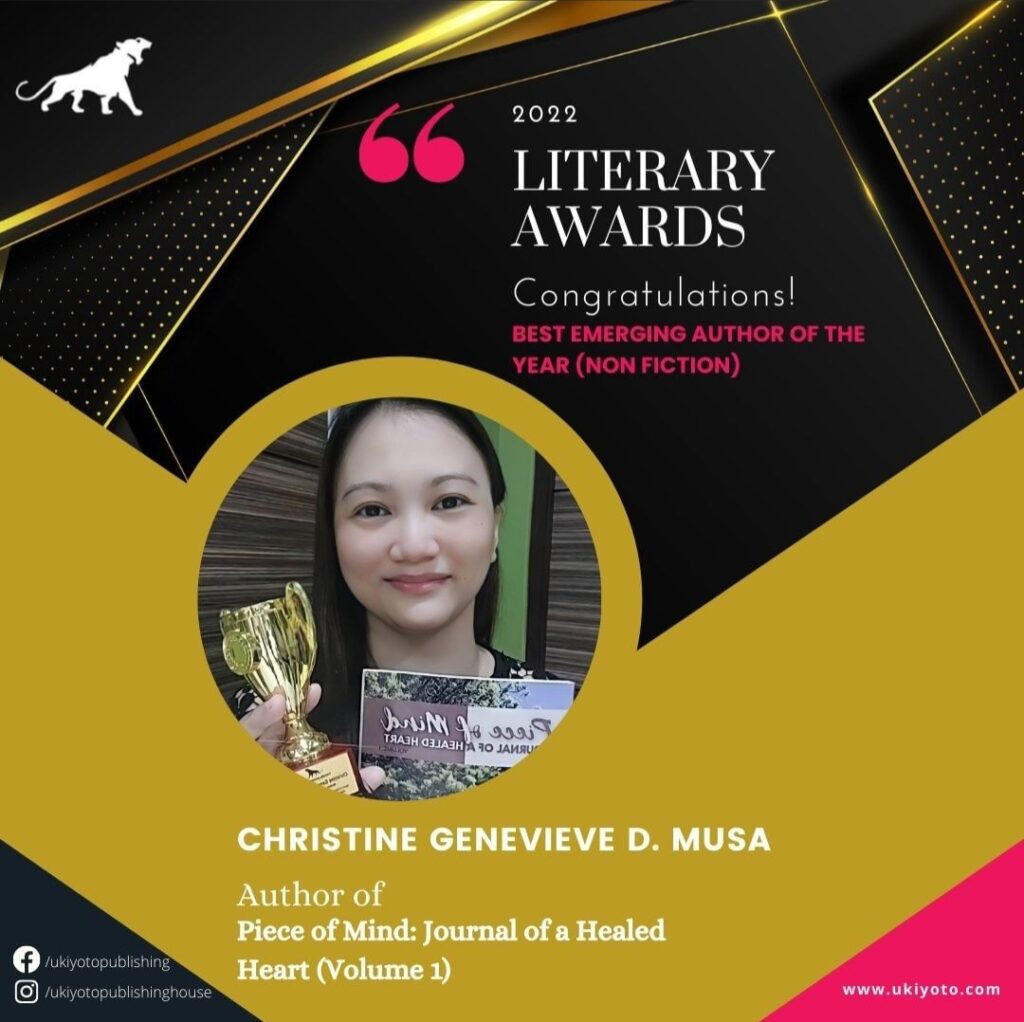 ---
April 1, 2022: I had my second feature on the April 2022 issue of Litteratura Magazine, this time as one of the award-winning authors of Ukiyoto Lit Awards. I was awarded as "Best Emerging Author of the Year" under the Non-Fiction category for my latest book "Piece of Mind: Journal of a Healed Heart (Volume 1)".
I was really grateful to get a chance to include a very special person who's always been in the dedication section of my books.
"To the one who serves as my light, my rock, and my source of inspiration." My daugther Bleu.
---
February 1, 2022: Oxford Bookstore and Ukiyoto Publishing will be hosting a panel discussion this coming February 11th, 2022 at 7:30PM Manila Time (5PM IST | 6:30AM CET). The theme is "Role of Women Authors in Inspiring Change" and I'll be one of the panelists.
This will be broadcasted LIVE via the Oxford Bookstore's Facebook Page.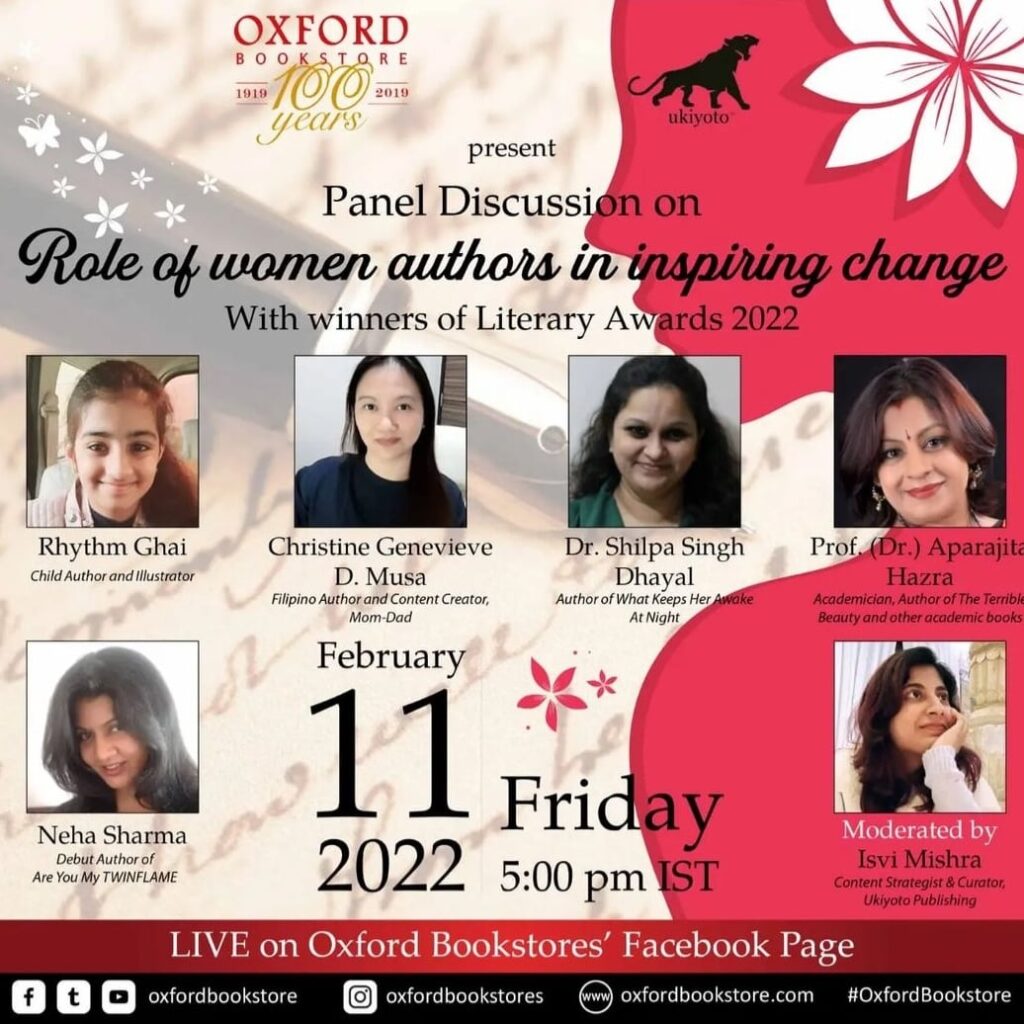 ---
UPDATE as of January 5, 2022: Due to the surge in the COVID-19 cases brought about by the Omicron variant, The New Delhi World Book Fair 2022 event would have to be postponed at a later date. This was announced as part of the circular which came from the National Book Trust of India to ensure the health and safety of everybody, including the stakeholders and organizers. The new dates are yet to be announced so please stay tuned.
December 18, 2021: Excited to share that my new book
, "Piece of Mind: Journal of a Healed Heart (Volume 1)", is participating in the upcoming New Delhi World Book Fair 2022. This 30th edition of New Delhi World Book Fair celebrates 75 years of the country's independence and it will be held between January 8th and 16th of next year
. This event is expected to be packed with various activities such as panel discussions, book and photo exhibitions, and book releases as it attracts a diverse audience from all over the world
. This is going to be held at Pragati Maidan, New Delhi
, which is considered as among the biggest exhibition centers in India. This is to anticipate over 2.8 million visitors, guests from over 70 countries around the world, over 150 Indian exhibitors, and roughly over 20 exhibitors from other countries.
You can grab your copy of my book during the event. However, due to COVID-19 protocols and mandates, only a limited number of stocks could be showcased during the fair itself. But you can place a pre-order request in order to secure a copy. Your pre-ordered copy will be available for pick-up at the venue during the event.
To place your pre-orders, kindly click this link —> Pre-Order "Piece of Mind: Journal of a Healed Heart (Volume 1)"
IMPORTANT: Pre-orders will be accepted only until December 27th to allow sufficient time for printing.
---
December 12, 2021: My 2 published books have been nominated for 2 separate awards under the Non-Fiction category on the upcoming Jaipur Literature Festival 2022. My first every published book, "I Escaped the Narcissist: Memoirs of an Empath Supernova", is nominated for the BEST MEMOIR award, while I got nominated for the BEST EMERGING AUTHOR OF THE YEAR award for my 2nd and latest release, "Piece of Mind: Journal of a Healed Heart (Volume 1)".
The Jaipur Literature Festival 2022 is scheduled to happen between March 5th to 14th and will be celebrated in hybrid mode:
* ONLINE: March 5th-14th
* OFFLINE: March 10th-14th
---
October 20, 2021: My new book entitled, "Piece of Mind: Journal of a Healed Heart (Volume 1)", is out now and available through Amazon, Ukiyoto, Google Play Store, and Shopee PH. It's my 2nd non-fiction book which is a lighter follow-up to my memoir "I Escaped the Narcissist: Memoirs of an Empath Supernova" which was published last year.
This book contains a collection of all-original literary pieces, short articles, quotes, and anecdotes based on my personal experiences as I was going through a lot of life-changing realizations while surviving the damages of a failed marriage back in 2012. It follows my journey as a relationship survivor who experienced abandonment and betrayal which changed my life forever.
Get your copy now from the following channels and formats:
* Amazon Paperback | eBook
* Ukiyoto all versions
* Ukiyoto Philippines (all versions)
* Google Play Store eBook
* Shopee PH Paperback
---
August 27, 2021: The filmmaking workshop I attended last June was covered by The India Saga.
I was featured alongside some of today's best-selling authors, emerging talents in the world of publication, and key players in the different aspects of artistic contributions. Truly excited for what's in store!
Click here or the article banner below the banner to view the article.
---
August 7, 2021: I took part in the Ukiyoto Author Showcase in which I shared my wonderful experience working with Team Ukiyoto as one of its authors.
Here's the clip that was showcased:
---
July 30, 2021: My first episode in The Spoken Flutter entitled "Experiencing the Pain of Infidelity During the Pandemic" was made available for streaming on Spotify. Listen as I read out an excerpt from my book "I Escaped the Narcissist: Memoirs of an Empath Supernova" — my very personal take on how to deal with infidelity issues during these trying times.
Start streaming by clicking the image below.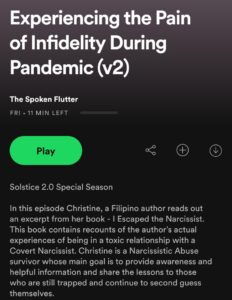 I'm hoping that anyone who's fighting battles silently would find this piece. Please feel free to share to anyone who might need to hear this.
---
April 24, 2021: My book and branding as an author are now flashing on 3 billboards in Quezon City (along GMA EDSA Kamuning, C5 Libis, and Katipunan). The said promotion went live just this morning (April 24th at 12:01AM) and it will run up until April 30th at 11:59PM.
And to celebrate this milestone, I created clip to summarize all the good things that happened thus far. All credits and gratitude to my publisher, Ukiyoto Publishing, for making these possible!
---
March 31, 2021: I was featured as one of the authors in the Asian Edition of Litteratura Magazine: the literary magazine of Ukiyoto Publishing which covers the notable work and achievements of authors, writers, bloggers, publishers, and organizations in the literary domain across the globe.
This edition provides valuable insights and details of our works, inspirations, and thought process behind our writings. This is essentially recommended for aspiring and established authors and writers who would like to know and explore the literary world as well as the emerging contributors from the different parts of the world.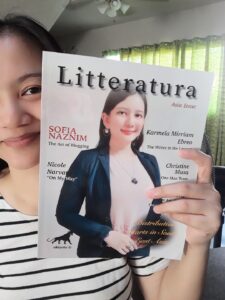 The copies are distributed globally in both Paperback and Flipbook formats.
Click the links below should you wish to get your own copy:
* Litteratura Magazine (Paperback)
* Litteratura Magazine (Flipbook)
---
February 11, 2021: The Special Author's Edition and self-published version of my very first book "I Escaped the Narcissist: Memoirs of an Empath Supernova" is now available here in my Piece of Mind website.
Please visit my Shop for you to get your copy!
This Special Author's Edition contains a bonus chapter a few additions (i.e. images, personal notes, etc.) which the initial release did not have. Learn how Christine was able to take a stand against Narcissistic Abuse which allowed her to escape the nightmare and manage to have a better, healthier, and peaceful life away from harmful abuses.
---
October 30, 2020: My very first published book "I Escaped the Narcissist: Memoirs of an Empath Supernova" is already LIVE and AVAILABLE for purchase!
BUY NOW through these channels and formats:
* Amazon Paperback | Paperback Kindle Edition | eBook
* Amazon UK | Germany | France | Sweden | Japan
* Barnes & Noble Paperback
* Google Play Store eBook | Audiobook
* Google Books Paperback
* Ukiyoto Paperback
* Ukiyosk Flipbook
* Dymocks Paperback
* Apple Books Audiobook
* Rakuten Kobo Audiobook
* Scribd Audiobook
* Shopee Philippines Paperback
— END —
Click here to go back to the HOME page.