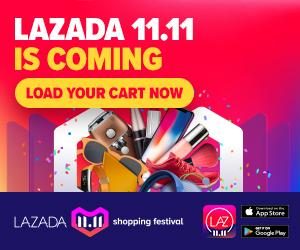 Are you ready for Lazada's Biggest One Day Sale?
Lazada 11.11 BIGGEST ONE DAY SALE is happening on Sunday, November 11th, and this is anticipated as the biggest sale of Lazada for this year.
I am a fan of online shopping and Lazada has been my go-to online shopping place since 2015, when I just moved in to my new house and I needed to start filling it in with the household items and decorative stuff.
My personal shopping experience has changed ever since then because I discovered that I could find and buy a whole lot of different items in a very convenient way…without the need to go out of the house.
And apart from convenience, another reason why I love shopping through Lazada is the good amount of discounts that I get.
With proper searching of items and product examination, I am always able to get awesome items at a much cheaper price.
And this coming November 11th, Lazada is set to have its Biggest One Day Sale with discounts of up to 90% on over 11,111+ Products and Brands.
Not only that, some lucky shoppers could also win vouchers which would allow them to enjoy a shopping spree.
So in case you haven't heard of this yet, you still have the time to gear up by starting to add items into your shopping cart so you would just need to check them out once the clock strikes 12:00 am of November 11th.
Most of these items could run out of stock in no time so it would be best if you would just need to check-out and purchase the items instead of starting your search on the day of the shopping festival itself.
My Favorite Items from Lazada on SALE!
I've been a satisfied shopper for 3 years and I've purchased a lot of items from Lazada.
And I was thrilled to see that most of my favorite items are included in the long list of items going on BIG SALE!
Please see below for my Top 10 (in no particular order):
---
AFFILIATE DISCLOSURE: This post is not sponsored. However, it may contain some affiliate links. If you purchased something through one of those links, I would get a small commission which would help me maintain this blog.
---

This quality nappy bag is one of the most practical and convenient diaper bags which you could find anywhere else.
It is made of high quality durable oxford fabric that's why it's water resistant and easy to wipe clean so you won't have to be afraid of water or milk spillage.
It also has large main compartments, ideal for moms who don't want to travel light when going out with the baby.
The separate storage pockets include 5 insulated slots for bottles which could fit even those wide neck feeding bottles for toddlers.
This also serves as a multi-function bag which can be used as a backpack, a carry-on bag, or a stroller bag.
For a closer look, watch the video below showing what's inside my diaper bag featuring this Babybee Nappy Bag which is definitely one of my best purchases from Lazada.
This item is at the top of my list among the best mother and baby items which I purchased when I became a mother.
I was an exclusively pumping mother that's why I relied heavily on my breast pump.
I pumped milk for my baby for 8 straight months and this amazing breast pump was able to keep up with the demands of almost round the clock breast pumping, not to mention the times when I needed to do some power pump sessions in order to help increase my supply.
It has a very simple design which makes it easy to assemble and clean-up.
Its performance is comparable to branded and expensive breast pumps in the market nowadays but this one is available at a much cheaper price.
The only downside is that this doesn't come with silicone cushion, although, I never really had any issues with that because it wasn't painful to use this at all.
This product is highly recommended particularly to all the moms who would like to go practical on breast pumps without the need to sacrifice the quality and convenience.
Here's one amazing and dependable item in the kitchen.
This pair of heavy-duty kitchen scissors has stainless steel blades perfect for cutting meats, vegetables, poultry products, seafood, and a whole lot more.
Not only that, this is also useful when it comes to cutting wires, cracking nuts, and opening a bottle or a can.
Its Ergonomic design promises to provide comfort and convenience to the user and it's so easy to clean.
Thanks to its simple easy-to-separate design.
No wonder why this has become one of our most useful kitchen tools.
This is probably the high chair with simplest design which I've seen ever.
If you're a minimalist and would like to avoid the hassle of having a hard time cleaning up after feeding your baby, this is the best high chair which I could recommend.
It is not costly but the quality is high that's why it deserved the rave reviews that it's been getting ever since this high chair was introduced.
Perfect for those moms who allow their babies to self-feed and explore during mealtime because cleaning up is a lot easier and simpler.
I only use a clean damp cloth whenever I clean up but you can also spray water on it without worrying about ruining the product since it's not fabric-based.
The only downside is that the safety belt may not be enough for some babies who are very active so very close supervision is highly encouraged.
Also, since the tray is not easy to detach, we ended up just keeping it as it is and we don't remove the tray anymore.
I let my baby learn self-feeding so she could be more independent during mealtime and this high chair has been really helpful every since.
5. Natural and Organic Bottle Cleanser and Wipes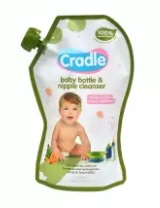 I'm a fan of Cradle Natural Bottle and Nipple Cleanser ever since the beginning.
I never considered switching to another brand because I love everything about it.
It's completely safe because it's made from natural and edible ingredients so you don't have to worry about feeding your baby with harmful chemicals.
Unlike most dishwashing liquids, this doesn't contain Triclosan, a toxic chemical which has been found to have links with highly carcinogenic compounds called Dioxins.
It's very easy to rinse and I'm sure you would also love the bubble gum scent.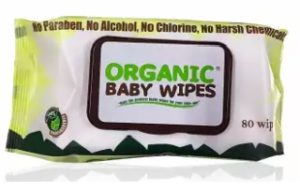 Another safe and organic item on the list of my favorite baby cleaning products is the Organic Baby Wipes.
It is safe because it's Paraben and Alcohol-free and it has no Chlorine and other harmful chemicals.
It contains Aloe Vera, Vitamin E, and Chamomile that's why it's not harmful to the baby's sensitive skin.
Each pack of 80 sheets comes with a cap that makes dispensing a lot more convenient, especially for the moms who are always on the go.
The downside, however, is the fact that some sheets are sticking tightly together that's why there were times when I would tend to dispose more than a single sheet at a time.
If you love saving space in your kitchen, then this portable trash bag holder is perfect for you.
Its door back design allows you to hung this by the cabinet door (either outside or inside if your cabinet would allow) so you won't have to deal with bulky trash bins that could also take up space around the kitchen.
I personally love this item because it also allows me to re-use grocery bags for disposal.
7. Korean Dresses for Maternity and Plus-Sized Women
When I got pregnant, I started browsing for clothes and dresses which I could still wear even during postpartum because I wanted to save money and I didn't want to spend on maternity dresses which I could only use temporarily.
I found so many items but I have here a couple of those with good quality and which are going to be on sale during the shopping festival.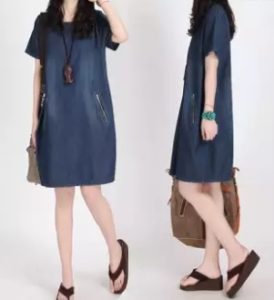 Female Korean Plus-sized Denim Dress Blue
The sizes of this denim dress range from Medium to 3XL.
Perfect for any casual events.
2NE Striped Large Size Knitted Dress (Korean Version)
This dress is the Korean Version of the pregnant women's striped large size knitted dress.
The sizes range from Medium to 2XL.
The only downside when purchasing clothing items online is the fact that we're not able to examine the clothes personally.
In order to avoid buying clothing items which are not of good quality, I encourage you to take time in reading reviews and actual customer feedback before checking out any item.
Most of these would also need to be shipped from overseas so expect longer delivery lead time.
And most importantly, make sure to read and utilize the measurement guides in order to purchase the right size for you.
8. Hand Held Bidet Sprayer
Our house has 3 toilets and bathrooms and 1 powder room and all of them are equipped with bidet sprayers.
Unfortunately, my husband and I purchased low quality bidets when we started moving in.
All the spray head handles were quickly worn out although some of them were only slightly used as we only mostly use the toilet inside the Master Bedroom and the powder room located at the first floor.
It would have been costly for us to buy all new set at a time and we only needed the bidet head anyway.
That's why I was glad to have found this item online.
It was perfect for all the hoses because the size is standard and it's stainless steel so it won't get rusty overtime.
9. Bamboo Mural Removable Wall Sticker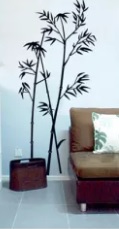 I went gaga over removable wall stickers back in year 2015 because I found them to be quite efficient and trendy at that time.
The best characteristic of a wall sticker as a decorative item around the house is the fact that it's removable and there's no need for drilling or other manly jobs before having them installed.
All you need is a patient husband who's willing to spend some quality time putting the pieces on the wall (LOL!) and I'm lucky to have one.
And out of the many decorative wall stickers I purchased, this Bamboo Mural is definitely one of my favorites.
It's got good quality so the stickers stick well on the wall.
It's simple, clean, and trendy that's why it instantly gave my living room a personality.
This is just one of the so many beautiful removable wall sticker designs which you could find in Lazada.
Many items here are hard to find from elsewhere.
All you need is to find time to carefully choose them and read reviews and feedback from actual customers as one of the common downsides I've experienced was getting the wrong size and receiving items very different from the pictures.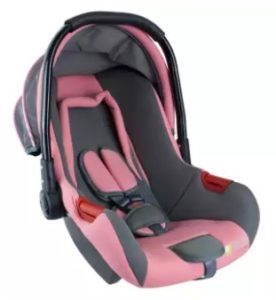 I was expecting that there would be a lot of travels once my baby has arrived that's why baby car seat was one of the items I purchased while I was still pregnant.
I also wanted to put my baby inside a basket carrier when transporting her from the hospital to our home upon discharge to make sure she would be 100% safe and secured.
However, I did not want to spend a lot of money because we're saving the biggest portion of our savings for the big day.
That's why I got so excited when I found this Premium car seat from PhoenixHub.
It was exactly what I was looking for and the price was way cheaper than the others which I could find from the shops and department stores.
I consider this as one of the most useful items I purchased for my baby ever since she was born.
She got used to this seat that she's found her own spot inside the car so she always enjoys travelling while comfortably seated here.
---
Add Items to Your Shopping Cart NOW!
These are just some of the items which are going on Sale come November 11th and there's a whole lot more from different categories.
I only shared the items which I've purchased myself and I have proven to be of good quality.
These were the ones I purchased which gave me my hard-earned money's worth.
When purchasing items online, always consider reading actual customers' reviews and feedback before checking out so you could at least get a guarantee of receiving the item that you wished for.
But, of course, keep in mind that there's always a risk when buying items which we're not able to check personally so always allot some rooms for disappointments.
In any case, you always have the option to complain and return the items.
I have good and bad experiences myself but I still find online shopping through Lazada as one of the best options for a very convenient shopping experience.
No wonder I have purchased about 150 items already! And my long list continues 🙂
Click this link (load your cart now!) to start shopping and adding items to your shopping cart now to prepare for Lazada's BIGGEST ONE DAY SALE for this year!
---
Do you also have some personal favorite items which you've purchased from Lazada?
Any tips or best practices when doing online shopping which you could share?
---
For more stories and information please:
– click Pieces to see all the articles in this blog
– like Piece of Mind Facebook Page
– subscribe to my SimpliciTine YouTube channel
Follow, Like, and Subscribe!