Sharing here the open letter which I'm dedicating to the best mother — my mother.
Dearest Mommy,
First of all, Happy Mother's Day!
This year's Mother's Day celebration is very special because this would be my very first time to celebrate it also as a new mother.
I really didn't know how to start composing this letter because I wanted to say a lot of things.
But first let me tell you that I'm thanking the Lord everyday for giving me you as our mother.
I also always pray for your health, happiness, and a whole lot more.
We've been celebrating your birthday and Mother's Day and I've been writing you dedications in the past how many years now, but this year is the most emotional one for me because it's my first time writing my mother a letter as a mother myself.
I'm so overwhelmed with how my emotions would start pouring in from the moment my fingers started typing.
But among the so many things that I wanted to tell you, allow me to break them down one by one:
THANK YOU…
…for everything that you've done for me in the past 36 years of my existence!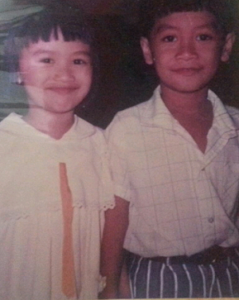 I am who I am mainly because of you.
Yung tipong kahit nakapagtaguyod na kami ng sarili naming pamilya ay patuloy ka pa ring nagiging ina para sa amin.
Your love and care never stopped no matter how aged and established we've become.
My goal is to do the same for Bleu because I want her to experience how fortunate it is to have a mother like you through me.
I know that I have a very big shoe to fill because what you did for us is something that is difficult to rehash.
…for being a wonderful and loving lola to our Chabbybear, Bleu!
Sobrang happy ako sa tuwing nakikita ko kung gano mo kamahal si Bleu.
Thank you so much for helping us take care of our precious little angel especially when I needed to go back to work.
You've provided us with such a tremendous help ensuring that Bleu is always in a safe environment whenever we were away.
You don't have any idea how much it meant to me since I always feel paranoid whenever I'm away from home.
I also see how much Bleu loves being around you.
She's happy and jolly when you're around.
You make her smile the widest especially when you dance just to entertain her haha!

This is why Bleu misses you when you're not around.
Let me tell you a secret.
Back in the days when I was still praying hard to get pregnant, you were one of the reasons why I badly wanted to have a baby because I knew how much you've been praying for the same.
You have always been excited to have your grandchild from me that's why I was over the moon when I confirmed that I was pregnant.
I could not contain my excitement.
In fact, my original plan was to wait until your birthday before telling you.
I wanted to give the announcement as a form of gift.
However, due to so much excitement, I could no longer wait for weeks to break the exciting news.
…for not giving up on me when I had almost given up myself!
Do you remember the time when I was so broken because of my failed marriage?
Ikaw lang ang consistent support na nasa tabi ko nung mga panahon na yun kahit sobrang pinahirapan ko ang kalooban mo..
We even reached a point when I acted like a crazy woman due to depression and so much pain that you would catch me talking to myself.
I gave you so much pains and difficulty also because I became a completely different person.
I became difficult to deal with.
I was always mad.
Sa'yo ko pa nga madalas na naibabaling yung galit ko sa mundo.
You were the only witness to all that happened to me.
You saw me when hell almost called me but you never left my side.
I knew you weren't exaggerating when you exclaimed that you should probably need to call an Exorcist to cast away all the demons which took over my mind and body.
That was all because of the pain that my ex-marriage brought upon me.
No one else saw me at that level of mess except from you.
But you never loved me less.
One moment which I won't forget was when we had this thing called "agawan ng susi ng kotse".
That was when I was hit by depression and I wanted to drive alone in the middle of the night.
I got you scared and you kept keeping the car key away from me as you were worried that I might get involved in an accident because my eyes were almost blinded by tears due to non-stop crying.
But I refused.
I was adamant and persistent that's why I kept on taking the car key from you.
We were having a tug-of-war in the garage in the middle of the night.
Honestly, I really wanted to storm to meet an accident and end my life.
Kasi pagod na ako kakaiyak, kakaisip, at kakahanap ng sagot sa mga tanong ko.
But you stood there and did not let it happen despite the fact that things were getting really physical.
You were crying and even almost fell down on your knees just to beg me not to proceed.
You were even trying really hard to keep your tone down because you did not want lolo Jose to hear the commotion but it seemed like I lost my self-control and respect for other people because of so much pain and anger that I refused to obey.
Thank you, mommy, for not letting go of me that night!
Had I pushed through with my plan to end my life, I would have not lived today to experience the joy of becoming a mother, the fulfillment of my life-long dream.
I would have not seen the loveliest human being who would give me the best reason to live, my own daughter.
…for supporting me on all the choices I make!
You have been my #1 supporter in everything that I do and desire in life.
Yung tipong kahit minsan hindi mo na ako naiintindihan pero todo-suporta ka pa rin dahil naniniwala ka sa vision ko.
You know all the side ventures I have in order to survive and sustain our living.
Yung akala ng iba wala akong problema pero ikaw alam mo lahat ng hirap na binununo ko sa araw-araw para lang maitaguyod ang sarili kong pamilya.
You still continue to support me on my small-businesses although you know that I don't earn that much.
I always appreciate the fact that you're always there for me no matter what happens, even though I bother you most of the time and you usually don't get anything in return.
Madalas nga abonado ka pa sa effort at pagod.
What I really love the most is the fact that you never judged me in spite of everything that I've gone through in this lifetime.
No matter how many poor choices and wrong decisions I've made, you're still there believing in me.
You've seen me fall, face-planted, dead-flat on the ground but you were always there to pick me up.
And when I got up, I became reckless when it comes to making new decisions but you continued to have your faith in me intact and untarnished.
You never doubted my intentions.
…for allowing me to live in my own pace!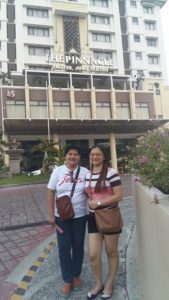 This is the first time I'm going to tell you this…you're a cool mom!
I'm saying this not because you're always current but because you never made me feel that I was living my life under your watch.
Never mo akong minadali.

Never mong pinaramdam sa akin na dinidiktahan mo ako sa sarili kong buhay.
Instead of feeling upset whenever I would not get into the Top 5 in class or whenever I would receive a job application rejection, you were the one who would lift my spirit by telling me that it's okay, that I could always do better next time.
Even when it came to the matters of the heart.
I won't forget the time back in High School when I was still in a "secret relationship" with my first boyfriend and we were having some issues.
Of course, I couldn't simply open up to you since I haven't admitted to you and kuya that I was, in fact, in a relationship with him.
But as they say, "You can't keep any secrets from your mother", and I felt that you knew about us all along.
You just did not want to make it a big deal as long as it's not impacting my studies.
You noticed my gloomy behavior that's why out of the blue you said,
"Kung anuman yan, wag mo masyadong isipin yan. Lilipas din yan."
I did not know how to react.
For if I'd just simply acknowledge your statement, it would mean an outright admission that I was, in fact, in a relationship.
Perhaps, that was your subtle way of telling me that you knew that I have a boyfriend and you're not mad because you trust that I won't do something stupid that would cause me my future.
That recollection would remain as both funny and awkward.
But I truly appreciated the maturity and compassion that you showed.
That's when I knew that you would be by my side no matter what.
…for giving me a wake-up call when I was too down to realize my advantages!
I still live on that moment when you came in my room to pick-up my dying spirit.
I was at my lowest point, could barely get off my bed, with my eyes drowning in tears.
The man I married just abandoned me and he left a lot of unanswered questions.
My head felt full but empty at the same time.
My future suddenly seemed so blurry and I got petrified by the thought that it was the end of the world at least for me.
While I was in the middle of having self-pity, you sat by the bedside and tried to convince me that I could survive.
I tried to reject some of your statements by implying that you didn't understand what I was going through because you were not in my situation.
That's when you uttered a line that I would never forget.
Because it was like a paddle that hit me straight to the face and made me realize that I was such a brat.
You said,
"Kaya mo yan, anak. Bakit naman ako? Nakaya ko kayong itaguyod ng kuya mo kahit mag-isa lang ako?"
I literally saw a light coming through me after hearing that line.
Among all the questions that I had in my head that time, your question was the best thing I heard.
How could I ever forget that?
My marital issues must have gotten the best of me that I happened to forget how my mother raised us all by herself when my father left.
"Shame on you, Tine! Shame on you!", I heard my other self saying that to my other self.
Nahiya ako sa sarili kong isipin na masyado akong nagmumukmok samantalang napakalaki ng advantage ko kumpara sa sitwasyon mo nung nasa pareho tayo ng katayuan.

Wala naman akong anak at meron akong maaasahang trabaho na pwedeng sumuporta sa akin.

Samantalang ikaw, dalawa pa nga kami ni kuya na itinaguyod mo nang mag-isa pero nagawa mo nang maayos.
Tanga na lang talaga ako kung di ko pa ma-realize yun.
Thank you, mommy, for giving me that much needed kick on the butt!
But apart from all the reasons I have to say THANK YOU to you, let me also tell you some of the things that I've been wanting to tell you.
I'M SO SORRY…
…for repeatedly letting you down.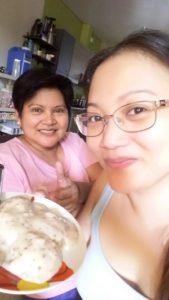 Mom, I don't recall a moment when you turned your back on me, no matter how tough the situation gets.
You have always been the wind beneath my wings and that one strong force who always picks me up whenever I falter.
You have been too good to me that I sometimes feel that I don't deserve your love anymore.
I'm sorry for letting you down multiple times because of some wrong decisions that I made in this lifetime.
But you don't have to worry a lot about me anymore because having Bleu by my side means I have the best reason to do more sound judgement.
I won't let you both down this time.
…for pushing you away and sending you home crying.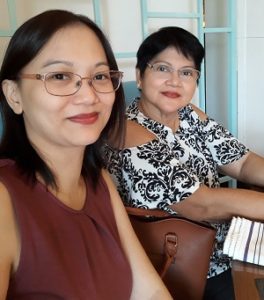 Remember when I told you that with all the things that happened to me in the past, I did not have any regrets because my life became so much better after the biggest storm?
Well, technically I wasn't telling the truth because, to be honest, there's this one thing that I really regret doing.
That was the time when I pushed you away and asked you to leave my house when we had a very heavy argument.
I was still depressed during that time and I blamed you for not having a closure with my then-husband because you did not keep your promise of not getting in touch with him.
I called you a traitor and told you that I won't ever trust you again because of what you did.
I felt so betrayed that I forgot that you were also hurting to see me in that situation that's why you made some move that I did not agree on.
Well, I may not agree with your approach and it took me some time to finally appreciate what you did there, but I would like you to know that I completely understand why you did that.
You were pushed to your limit because you could no longer bear seeing me in such a desperate situation.
I won't forget the look in your eyes when you were about to leave my house.
You were crying and you did not really want to leave because you were so worried that I might do something harmful to myself.
But I was adamant.
I still sent you home because I wanted to be alone.
I still cry whenever I remember that scene.
Perhaps, I'm having a hard time forgiving myself for doing that to you.
I let you leave the house crying although I knew that you would still need to commute from Manila going to Navotas.
I was the worst daughter ever for letting you experience that.
I was so disrespectful.

I'm terribly sorry.

You did not deserve any of those.
I'm also sorry because that incident made you suffer from depression as well.
I'm thankful to the Lord for allowing you to overcome that.
…for losing my money and not having anything left to offer you.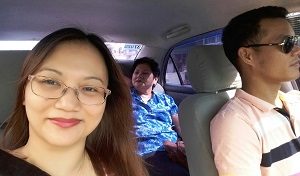 This is probably the biggest thorn in my heart that I endure every waking day: the fact that I invested all my hard-earned money to prioritize the needs of my ex-husband's family, to the point that there's nothing left for you while in the process.
Mommy, I'm sorry kung mas nauna ko pang maipagawa ng bahay yung ex-byenan ko.

Walang araw na nagdaan na hindi ko pinanghinayangan ang lahat ng yun.

Lagi kong iniisip yung mga bagay na naibigay ko na sana sayo kung hindi ako nagpaloko.
And thank you so much, mommy, for choosing to understand everything despite the gravity of what I lost.
Alam kong hindi biro yung sinayang ko.
But don't worry, this is what I promise you, you will not grow old alone.
I will take care of you and will make sure that you would enjoy your retirement days.
You have given us all your life and you deserved the best of what's in store for us.
We will all be here for you.
Why am I saying all these?
I'm saying these things because I have learned my lessons.
I didn't want to lose any opportunity to tell you the things that I've been meaning to tell you.
Life is too short and I didn't want to waste our precious time.
And besides, I am fully aware that I am not the showy-type.
My emotions are always concealed by my strong facial features.
Nagmana kasi ako sayo eh.

Mukha lang masungit pero ang totoo, sobrang mabait.
Also, I didn't want to repeat the same mistake of letting time pass without making people dear and important to me know how much I value them.
I committed this mistake when lola Rosa died and I'm still crying at night whenever I remember her.
How I wish I could turn back time when she's still alive and able to hear me say,
"Maraming salamat po sa lahat, lola. Mahal na mahal ko po kayo."
Sadly, I could only talk to her in my sleep, wishing she could hear what I never had the chance to tell her personally.
That's why I am so happy now that I was able to publish this open letter not only for you to know, but for the whole world also, how wonderful you are and how blessed we are for having you as our mother.
I LOVE YOU, MOMMY!
---
For more stories and information please:
– click Pieces to see all the articles in this blog
– like Piece of Mind Facebook Page
– subscribe to my SimpliciTine YouTube channel
Follow, Like, and Subscribe!