Almost a year ago, I was given this opportunity to be featured in a literary magazine — Litteratura Asia edition in its 2021 release.
Through that article, I was given the chance to provide a bit of information about myself, my passion, and what I can tell those who are also aspiring to become an author.
The actual space for the feature was very limited that's why a lot of the details from the original transcript was not included.
So in this article, I am sharing the raw content.
---
BRIEF DETAILS ABOUT MYSELF
My complete name is Christine Genevieve Musa but most people within my circle call me by my nickname, Tine.
I'm a 39-year-old proud local from the Philippines who is living a very simple life with my 3-year-old daughter named Bleu and my mom who's already in her 60's.
Apart from writing, I work as a full-time employee in a Multinational company which is my bread and butter.
My day job occupies majority of my time that's why I make sure to also inject a few hours of my day doing things I am passionate about in order to balance my mood because, otherwise, I would get stressed and burned-out.
And apart from these, I also find time to create other contents like vlogs which I upload on my YouTube channel and memes which I share via the Facebook Page which I run and administer myself.
I graduated with a degree in Bachelor of Arts major in Communication Arts at St. Paul University Manila (formerly St. Paul College Manila) in 2003, but I landed a job that is not totally related to this that's why I always find ways to make sure that I still apply whatever I have learned during my College years.
---
MY BACKGROUND IN WRITING AND INSPIRATION
I started writing stories when I was in High School but I never succeeded in completing even at least one novel because I would often change my mind the moment I wake up in the morning.
That's when I thought that maybe writing wasn't for me.
Until later, I found out that the reason why I wasn't succeeding in writing was because I was more effective in writing real-life stories than just fiction.
My inspirations in writing stories and articles stem from the wide range of personal experiences in my life because I am a relationship survivor.
I have experienced different abuses from my previous relationships and I learned a lot from my past that's why I became passionate in sharing my own struggles and recovery in order to give hope to anyone who's looking for refuge.
My previous mistakes and wrong decisions made me the strong and resilient person I am today and I feel very passionate about inspiring other people through my stories, hoping to help them survive or escape the difficult situation that is destroying them.
I have had a lot of experiences in the past that I wanted to share with a lot of people that's why I ended up having my personal life stories my niche whenever I write.
Writing and creating articles and contents give me a completely different kind of motivation which also helps me feel motivated in doing the other million things that I need to do daily as a single parent, daughter, breadwinner, writer, sole proprietor, and a ton more.
---
ONE-MAN TEAM
Currently, I work solo and I don't have a team who works with me because I still consider writing as a passion and not a full-time profession but I'm always open to any opportunities that may arise.
Given this, I am 100% responsible for all the materials that I create and share, from conceptualization to execution of ideas up to carrying out the marketing strategies in order to showcase my pieces of work.
This gives me more control towards what I do although the only downside is the slow pace in terms of producing new outputs and projects.
But I enjoy every moment of it, nonetheless, even if it requires a lot of efforts and only short rests during the night.
---
MY LATEST LAUNCH AND FUTURE PLANS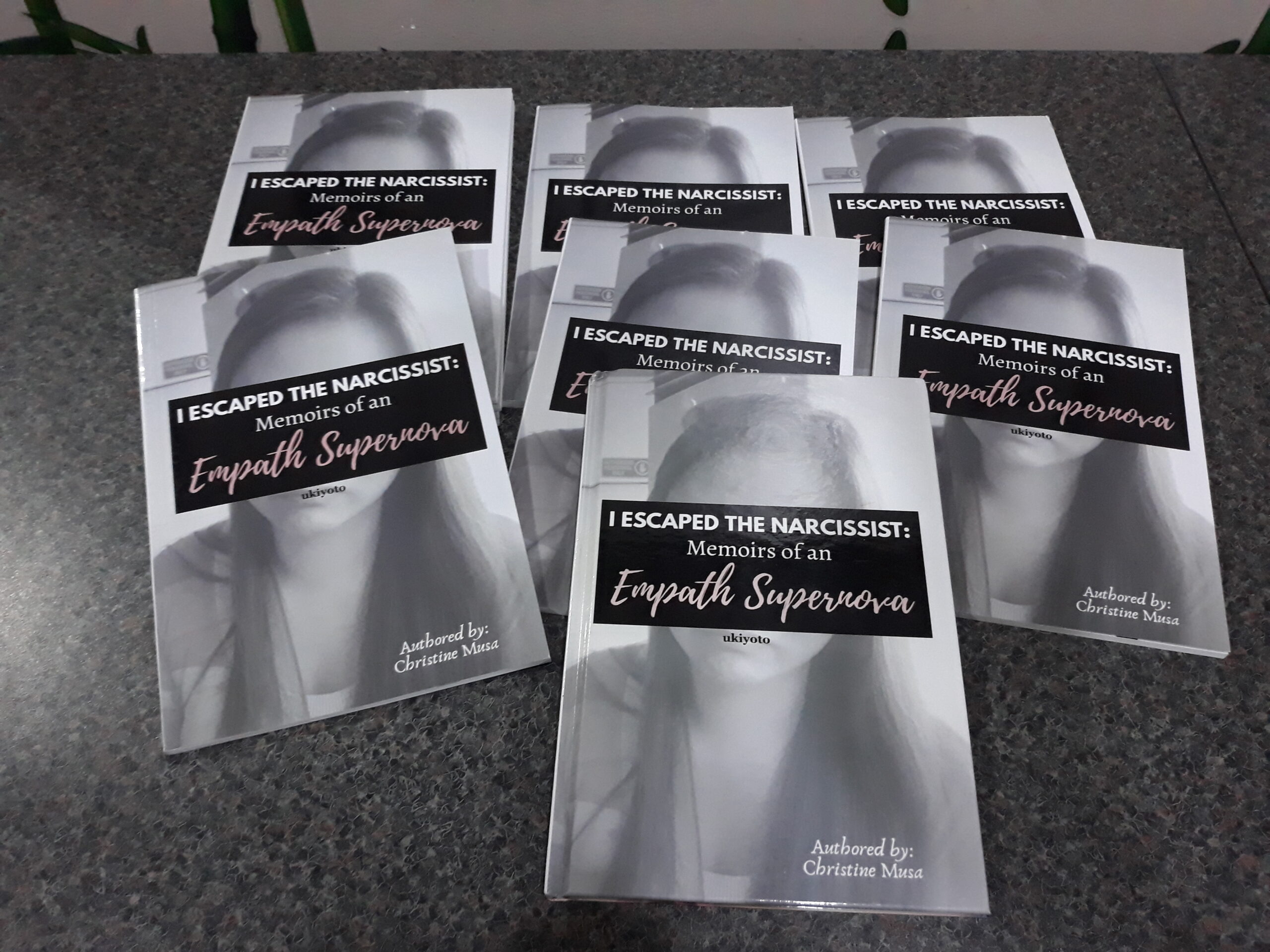 This book contains recounts of my actual experiences of being in a toxic relationship with a Covert Narcissist.
As a Narcissistic Abuse survivor, my main goal in coming up with this book is to provide awareness, give helpful information, and share the lessons to those who are still trapped and trying to escape the nightmare.

Part of my future plans as a published author is to produce more contents which are focused around having a peaceful life away from any form of abuse and a truthful life away from any pretentions driven by our desire to have a picture-perfect life, which we very well know doesn't exist.
---
MY MESSAGE TO MOTIVATE OTHERS
My message to all the other aspiring authors, writers, and creators out there, who are also doing non-stop efforts in pursuing their passion, is to just continue following their dreams and doing what they love.
Never be discouraged by your fears of getting judged and invalidated by other people because, at the end of the day, how you feel about yourself is the only thing that matters.
It is so much better to be hated for who you truly are than to be loved for who you are not.
My journey tells you that it's never too late to start elevating what you do to the next level.
Because at the age of 39, who would have thought that I would be given an opportunity to do something which I almost removed from my bucket list because I wasn't anymore expecting.
And I know that this is just the beginning.
Here's something to keep in mind:
"The best time to start pursuing your passion was decades ago. And the next best time is NOW!"
---
WHERE ELSE YOU CAN FIND ME
If you wish to find more about my works and contents, you may visit the following sites and pages where I am mostly active nowadays:
* Piece of Mind Personal Blog https://www.christinev3dotoh.com
* Piece of Mind Facebook Page https://www.facebook.com/PieceOfMind2018

All the other links to my other platforms like YouTube and Instagram can also be found in the main links I shared above.
---
For more stories and information please:
– click Pieces to see all the articles in this blog
– like Piece of Mind Facebook Page
– subscribe to my SimpliciTine YouTube channel
Follow, Like, and Subscribe!