Do you always find it difficult to save money because you earn just enough to get through the month or even a single cut-off?

Are you always getting frustrated thinking that you spend more than you earn? Therefore, nothing is practically left for the rainy days.

Well, if you find it too challenging to have a spare amount of money by means of setting aside, you don't have to worry because there are things you can start doing which will allow you to save money while you do your regular spending.

Let me share with you my Top 10 Ways on How You Can Save Money While You Spend. This list is ranked based on the amount of savings I made in year 2018.

IMPORTANT NOTE: These tips won't make you rich but at least would give you ideas on how to make your spending cycle more cost-efficient.
I did this for a year and allowed me to earn about 1/3 of my 13th Month Pay. In effect, it felt like I had an extra bonus before the year ended.

To add a bit of transparency, I included the earning % for each item to share with you how much it contributed to the overall savings I made when I did this exercise for the whole of year 2018.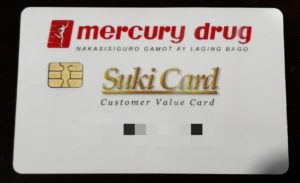 Mercury Drug Suki Card is a customer loyalty card, offered by Mercury Drug Stores, which gives rewards to its cardholders through the form of points. These points are earned by purchasing from their stores and outlets.

Points earned are equivalent to pesos which can be used as payment for the subsequent purchases.

What I do to save?
Once I've earned enough points, I make use of them to pay for the items I purchased.
Then, I save the money that I did not spend for which the Suki Card points were able to cover.
I immediately perform an online money transfer to my bank account.
9. SM Markets Coin Campaign (2.9%)
Whenever I have a lot of loose coins in my wallet, I transfer some of them to different containers and segregate based on the denomination.
This practice in itself allows me to save certain amount of money without realizing its worth until the containers become full and I start counting them.

Before, I would just do the inventory and then go straight to the bank to deposit.
This was until I saw this signage over that Customer Service counter at the SM Supermarket while I was doing the groceries.

SM Markets Coin Campaign encourages its shoppers to give their loose coins in exchange for monetary incentives.

Shoppers could get 5% of the total amount when you exchange coins using these denominations (minimum of P20.00 worth):
* 25 centavos
* 10 centavos
* 5 centavos

So if you have P20.00 worth of coins mentioned above, you could get P1.00 as incentive.

Furthermore, shoppers could get 2% of the total amount when you exchange coins using these denominations (minimum of P200.00 worth):
* 1 peso
* 5 pesos

So if you have P200.00 worth of coins mentioned above, you could get P4.00 as incentive.

What I do to save?
Before going to the bank to deposit all my loose coins, I go first to the Customer Service counter of SM Supermarket to exchange them for incentives.

Apart from giving me the convenience of carrying bills with me instead of loose coins when I deposit the money to the bank, I also get monetary incentives which I add-up to the amount to be deposited.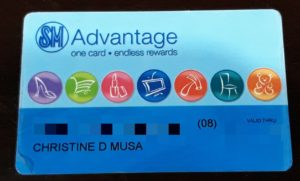 SM Advantage Card (SMAC) is a customer loyalty program that rewards its members with points, discounts, and freebies each time they shop at SM Department Stores, SM Supermarkets, SM Hypermarkets, and other SM stores and participating shops.

This program allows you to earn 1 point for every P200 purchase.
Points earned are equivalent to pesos which you can use as payment for your subsequent purchases.

So the more you shop, the more points you earn, giving you more rewards and privileges.
I also take advantage of its rewards whenever I gas-up at Shell by earning points since Shell is one of the participating establishments among the many others.

What I do to save?
Once I've earned enough points, I make use of them to pay for the items I purchased. Then, I save the money that I did not spend for which the SM Advantage Card points were able to cover.
I immediately perform an online money transfer to my bank account.

Apart from SM Advantage Card, there are plenty of other Rewards Cards out there which work the same way or maybe even better.
You can find the rest of them in this article: 10 Practical Rewards Cards to Have In Your Wallet
ShopBack is a cashback site in the Philippines that allows online shoppers to earn money while shopping.
Each time an online shopper makes a transaction, he/she gets a certain percentage of money back to the ShopBack account which can be redeemed.

In short, it gives you instant savings while doing online purchases.
The accumulated cashback amount can be redeemed by means of withdrawing.

Withdrawal can be done in 2 ways:
1) Transfer to Bank
2) Transfer to Paypal

This is really useful for me because I'm an avid fan of Lazada.
So every time I purchase something online, I always make sure to use this app in order to get cashback.

But apart from Lazada, there are plenty other online shopping platforms and merchant sites which are included like Shopee, Zalora, Foodpanda, Klook, and Booking.com to mention a few.

What I do to save?
Whenever I need to do any online transactions which involve any of the shopping platforms and merchant sites I mentioned above, I always make sure to use ShopBack in order to get cashback rewards and accumulate earnings in my account.

Once I've reached a minimum amount of P200.00, I withdraw the amount by requesting a Transfer to Bank transaction.

Sign-up now and get your P100.00 Welcome Bonus today!
6. Discounts and Promos (11.8%)
Discounts and Promos are everywhere these days.
Malls always have 3-Day Sale events to attract more shoppers and consumers especially during payday.

While I'm not encouraging you to frequent and patronize these events because you really get tempted to do impulsive spending, but it would be at your advantage if you could purchase items on Sale and discounted prices when you are shopping for your needs.

Apart from the malls, you can also take advantage of discounts and promos in forms of rewards and rebates.

In my case, I take advantage of the Grab Rewards since I'm a frequent passenger especially during days when I'm affected by the number coding scheme.

Grab allows you to earn points in every transaction which you can use to purchase rewards from their catalog.
I always purchase those which give me discounted fare price.

My Sun data plan also has the same feature.
I earn points every month which I can use to purchase rewards from their catalog.
I always choose those which give me discounts on my succeeding bills.

What I do to save?
Each time I get rebates and rewards, I list down the amount and deposit it straight to my savings account.

In 2017, I was fortunate enough to take advantage of rebates from Meralco.
For 8 straight months, I had P0.00 outstanding balance!
I saved a lot of money because of this.

And instead of spending the money for anything else, I saved the accumulated amount I earned and deposited it in my bank account.
Snapcart is a mobile application which gives rebates and cashback rewards to shoppers by simply taking a snap of their receipts.
Snapcart uses the data they collected to help businesses understand the behavior and spending habits of their shoppers and consumers.

How Much Can You Earn?
Depending on the total value of the receipt that you snap, potential earning ranges from P0.50 up to P30.00 per receipt.
You may also refer to the table below for complete reference.
What I do to save?
I snap all the valid receipts that I have uploaded into Snapcart so I get rewarded with cashback amounts which are credited to my account.
Once I've reached a desirable amount, I create a request for withdrawal then Snapcart transfers the money to my bank account.

Why I don't use Snapcart anymore?
I stopped using Snapcart in 2019 since they made a lot of changes in the process and ways of earning.
Although you can still earn real money, they have made the mechanics not so worthy of your time and effort.

Effective March 5th 2019, all new receipt rewards were changed from Cashback to "Coins" as Primary Currency.
So instead of earning real cash by simply taking a snap of valid receipts, users would then earn Cashback by spending "Coins" via Snaptastic.

That change greatly decreased the potential earnings, from about P30.00 per receipt to just P0.25 or even P0.00 depending on the outcome of the game, that's why I stopped.

While I hope that Snapcart would switch back to its old mechanics, I also understand that this change would have been driven by a change in business needs.
4. Cashback Credit Card (12%)
Owning a credit card can either give you an advantage or disadvantage depending on how you use it.
Perhaps one of the biggest challenges is not having enough control on your expenditures since you have readily available budget in a swipe.

But if you use your card to spend wisely, you could maximize its benefits and even allow you to save some reasonable amount.
One way to do this is by choosing a credit card that provides cashback rewards.

The type of card I'm using allows me to get monthly cashback rewards equivalent to 1% of the total bill in a month for local purchases and 2% for purchases done overseas.

What I do to save?
Each month, I check the billing statement, look for the cashback amount, then deposit the same amount to my savings account.

I tried doing this for a year and I earned an accumulated amount which was more than enough to cover the annual fee.

You may also read this article on the 12 Best Cashback Credit Cards in the Philippines (2019) to give you options depending on your needs and spending habits.
3. Senior Citizen Discounts (15.1%)
I'm only 38 years old so I'm not a Senior Citizen yet LOL!
But my mother is and she's got Senior Citizen ID and booklet.

Since I always go out and travel with my mother and daughter, we also get to reap the benefits of having discounted purchases simply because she's a Senior Citizen ID holder.

But of course, only my mother gets to take advantage of it because she's the Senior Citizen.
However, since I'm the one who would settle the bill most of the time, especially whenever we dine-out, I get to have a fair share of the benefits as well.

What I do to save?
Whenever I do my groceries with my mother, she allows me to use her Senior Citizen ID and booklet so we could get discounts.
Same thing happens whenever we go out, eat out, or even as simple as buying our favorite coffee at Starbucks, Milk Tea at Gong Cha, and flavored fries at Potato Corner.

I list down all the discounts we earned and deposit the total amount to my savings account.

Learn more about the other benefits by reading this article Senior Citizen Discount and Benefits: Important Facts You May Not Know
2. Online Selling (20.4%)
Out of all the ways I mentioned in this list, online selling is probably one that is not as easy.
However, this could be a lucrative mean depending on how much time and effort you're willing to spend.

Selling online nowadays is not as difficult as before because we now have a lot of platforms to use.
However, I'm not a full-time E-Commerce merchant and I only sell pre-loved items so I don't get to sell my products via top online selling sites like Lazada, Zalora, etc.

Good thing we also have good and reliable online selling sites for pre-loved items.
You can read this article further to give you some ideas: Places to Sell Your Pre-Loved Clothes

What I do to save?
I take care of my belongings.
When I no longer use them, I snap pictures, post them online, and sell them. The usual sites and platforms I use are OLX (now Carousell), Shopee, and Facebook.

Setting up your online stores are free and it's very easy.

Whenever I make a successful sale, I immediately put my earnings to my savings account.
Coins.ph is a mobile wallet that allows its users to have a secured access to a variety of financial services by simply using a smartphone.

This virtual wallet can enable the user to perform the following transactions:
1) Pay Bills (electricity, water, Government services, telco, broadband, cable, credit card, and lot more)
2) Buy Load (Globe, TM, Smart, TNT, and Sun)
3) Send/Receive Money
4) Buy Game Credits
5) Buy Digital Currency

I've been using this since 2016 and it has changed the way I manage my finances.
The biggest advantage for me is its convenience because it allows me to do many transactions without leaving the comfort of my home.

The best part for me is the fact that apart from the convenience, Coins.ph also offers rebates and cashback whenever you perform certain transactions.

When paying my bills, I get P5.00 cashback per unique bill regardless of the bill amount.
Plus, you get additional P100.00 bonus if you happen to pay 5 unique bills within a week.

This means that by simply paying 5 unique bills in a week, you get a guaranteed P125.00.
So imagine if you have 10, 20, or 30 bills to pay!

Apart from paying bills, I also enjoy getting 10% rebates whenever I reload my phone.
My neighbors know that I'm selling cellphone load so they get to be my regular customers as well.

What I do to save?
I use coins.ph to pay my monthly bills (Meralco, Maynilad, Sky Cable, PLDT, Sun Cellular, and credit cards) and I also offered the same service to some of my relatives.

I use this app as well to reload my cellphone and extended the same to our neighborhood.

All the rebates and bonuses are credited back to my coins.ph wallet which I then deposit to my savings account by using coins.ph as well.

Sign-up now and get your P50.00 Free Credit!
BONUS TIP!
Whenever I'm doing my regular groceries, I do the following to maximize all the possible rewards and savings I could get in doing just 1 transaction:

1) I use my cashback credit card to pay for my groceries so I get 1% cashback

2) I use my SM Advantage Card (since I normally do my grocery shopping at SM Supermarkets) to earn points from all the items I purchased

3) I use my mother's Senior Citizen ID and booklet to get discounts (I live with my mom and I shop for her items, too!)

4) I keep the receipt, take a snap of it, and upload to Snapcart
Key Take-Away
Saving money is still possible even if you practically have nothing left out of your usual salary because of all the regular expenses you have.

You don't need to wait for your bonus or a salary increase in order to start having at least something to save-up for the rainy days.

All you need to develop is a certain discipline which will allow you to have a mindset that helps you achieve goals, no matter how small.

Always remember: Great things start from small beginnings.

Now that I'm a single mom to my lovely daughter, my goal now is to put all the money I save to her savings account so I can give her a more comfortable future.
---
Do you also have some tips on how to save money effectively? I definitely would like to hear them so I can add them in this list for year 2020.

Feel free to put them in the comments section to share with everybody else.
---
For more stories and information please:
– click Pieces to see all the articles in this blog
– like Piece of Mind Facebook Page
– subscribe to my SimpliciTine YouTube channel
Follow, Like, and Subscribe!