Here's an article which I wrote back in year 2009 dedicated to my beloved grandmother — Lola Rosa.
My lola Rosa died in 2007 but there was never a day in my life when I forgot about her.
She's one of those whom I missed so much.
In 2009, I decided to write a tribute to her to honor her memory because I could not get over the fact that she's no longer with us.
I'm so glad I did because this article allows me to commemorate her and everything that she did for us.
There's never a time when I read this article without crying.
And for 2018, I made a "reprise" version of this article to post here in my Thought Blog.
This post is dedicated to all the awesome grandmothers who made such a huge impact and contribution to the well-being of their grandchildren.
And to the grandchildren who badly miss their grandparents.
Raised by Grandparents
They say that if you were raised by your grandparents, particularly by your grandmother, you would eventually grow up very conservative, old-fashioned, and naïve.
I should agreed but, being raised by my grandparents myself, I must say that there's a lot more.
There's something else other than just the noticeable differences that make someone either unique or stand-out.
In my personal experience, all I can say is that I was fortunate to feel the warmth and overpowering affection of my grandparents; something that I thank God for everyday.
My parents separated when I was only 3 months old.

According to my mother, I was peacefully asleep the night when my father left.
My father attempted to bring my older brother with him but my mom was very sick and weak that's why she couldn't get up to stop him.
That could have changed my brother's fate forever but, fortunately, after a few hours, my father came back and decided not to take my brother away anymore.
He left alone and we never heard from him since then.
I was already a teenager when my mother told me that my father tried to communicate with us through occasional calls and greeting cards but she was determined to raise us all by herself.
I never blamed her for doing so.
My grandfather did not let my mother raise us alone that's why he decided to let us stay with them.
I grew up within the 4 walls of my grandparents' house and it was there where I had my first recollection of my early childhood days, where some of the greatest memories of my life happened.
When I think of my Lola Rosa, the first thing that comes to mind is the fact that she was one-hell-of-a-woman.
She was, to us, the most hardworking and patient lola in the whole universe.
I won't recall even a single moment when she got tired of taking good care of us all.
During that time she had 9 children and 25 grandchildren, myself included.
This did not include all the other members of the Dela Cruz clan outside the circulation (i.e. her nieces and nephews from my grandfather's side).
I remember my childhood as something very adventurous and full of life.

Thanks to that amazing generation when everything was very simple, genuine, and action-filled.
There was never a dull moment at all.
I miss this everyday.
I belong to the family generation which was dominated by the male species.
I would always play around with 9 male and 2 female cousins.
That's why I grew up as one of the boys.
We played almost all sorts of street games and experienced all the fun under the sun when we were young.
I was about to become a 3rd grader when my mother decided to pursue years of working as a nurse abroad.
Ever since my brother and I were born, my mother seemed to have given up that dream in order to stay closer to us.
Although she's a Nursing graduate, she's never been able to practice that profession until the year 1992 when she took the risk of working overseas (Riyadh, Saudi) hoping to provide us with a better future.
She fully entrusted our welfare to our grandparents.
I could still recall how terrified I was learning that my mother would be away from us for years.
And that was the same time when my young self started to become more responsible and a little independent.
I never thought that my mother's absence would lead me into experiencing more wonderful childhood memories while being raised by my grandparents.
Sharing here some of the best things I remember whenever I look back and remember my growing-up years with my beloved Lola Rosa:
Best Cook I Know
I would always wonder how she could turn simple recipes into sumptuous meals.
She cooked the best Nilagang Bulalo that no one can ever dare defeat.
Our Christmas had always been merrier because of her famous dishes.
She prepared either this dish or Kare-Kareng Baka every year.
I drooled over these blockbusters for so many years that I still clearly remember those moments even up to now.
She had this genius pair of hands which magically turned any dish into a specialty.

I couldn't recall of any instance when I said "no" to her cooking.
She's also the one who introduced me to her killer recipe, Adobong Fried Chicken, that would definitely tease you off of that usual fast-food crispy fried chicken because of its uniqueness and addicting flavor.
The most impressive part is that she's never a fan of measurements.
I never saw her using cups or counting the number of teaspoons and/or tablespoons but, amazingly, she still would always put the right amount.
She cooks with all her heart that's why it was always perfect.
As a child, I had always been a die-hard fan of her cooking.
She's also the reason why I don't easily get impressed by any cook.
My Lola Rosa set the standard so high that even my own mother and aunts admittedly expressed the fact that their dishes could only come close but not quite to how genius my Lola Rosa was as a cook.
The Queen of the Wet Market
My Lola Rosa's signature get-up whenever she would go to the Wet Market was composed of a simple Duster, open-toe sandals, old-fashioned supil (headband), a little dub of bright red lipstick, and a modest spray of Johnson's baby cologne.
Her overall look won't be complete without her handy bayong (native shopping bag) where she placed all the items she bought from the Wet Market.
I couldn't count the number of times she took me there with her.
All I could remember was experienced and familiar she was in doing that daily task.
She knew almost everybody in and every corner of that huge marketplace.
Despite her age, she could still do rounds to hardly miss on everything we would need.
And there I was always by her side, like a pet, which she would whole-heartedly spoil with everything that would make a simple matakaw kid very happy: hot cakes, lugaw, goto, tokwa't baboy, halo-halo, bicho-bicho, buko salad, lady fingers, pianono, pichi-pichi, bibingka, puto, kutsinta, spaghetti, and a whole lot more.
That was my early idea of shopping.
I was with her when I bought my first pair of jeans because, at that time, I was starting to enter the stage of adolescence.
My life then was very simple as I was very contented with all the simple rewards I was getting from my Lola Rosa.
Simple yet very happy.
The Night Owl and The Early Bird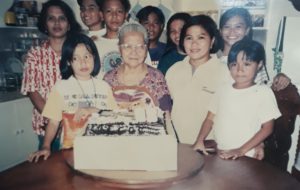 They say that as we get older, we also get weaker because older people get only a little amount of sleep.
But this fact seemed to have never manifested on my Lola.
She might have been physically challenged because she developed Rheumatism and Arthritis, but she was still unstoppable when it comes to doing what she loved: taking care of us!
Being the early bird, she would wake-up my grandfather who then regularly joined the rest of my aunts and uncles to our old family business at the Sta. Ana Public Market.
They leave the house as early as 5:00 AM.
And once my grandfather and relatives have left the house, my Lola Rosa would start filling-in the water tank to make sure that there would be enough water for us to use.
Then, she would cook breakfast for us to make sure that we're energized upon going to school.
I just couldn't imagine how difficult it was for her to go up and down the stairs (of 13 steps) more than a couple of times everyday just to wake us up for school.
And once we've all been sent to school, she would go the wet market to buy our daily supplies.
Then once she's arrived, she would prepare for lunch so we could have a sumptuous meal as we spend an hour of lunch at home before going back to school again for the afternoon classes.
And then she would perform some household chores and take a quick nap to have some energy to prepare a sumptuous dinner to help us regain all the energies we lost during the day.
And then she would clean up, secure the house, and prepare everything to do all these things again the next day.
All these she performed without complaining.
She was my best inspiration that's why I didn't get used to complaining a lot about hard work.
The Noble Teacher
It was never a secret to us that my Lola Rosa was not privileged to have experienced proper Education because of poverty.
Therefore, she could neither read nor write.
But this did not serve as a hindrance for me to learn a lot from her.
Her innocence and raw knowledge allowed me to experience her sincerity and authenticity.
She's the kind who would never pretend in order to impress the other.
And I absolutely admired her courage to bring us up the best way she could amidst the challenges of illiteracy.
The things I learned from her were more than what I could learn from any school.
Through her I discovered the real meaning of sacrifice and selflessness because she would always put the interest of other people before her own.
Actually, I don't think there was a time when she pushed for what she wanted.
She was happy with whatever made us happy.
I had a share of this kind of learning when I got involved in an accident which happened in early 2006.

A ten-wheeler truck could have killed me and changed the lives of the people around me.
Although I was in pain, everyday I was thankful not because the accident did not end my life but, because I was the one who got involved and not any of my loved ones.
Perhaps I got that from my Lola Rosa.
The Foreign Tongue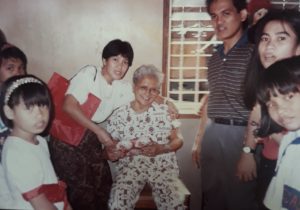 My Lola Rosa would always use some terms which were unknown to some.
I never knew that some of the terms that she would always use were unusual until I started going to College.
My close friends would always tease me for using some words that they have not heard before.
Some of these words were (prepare to learn some new words!):
1) ALPAJOR = Ginataang Halo-Halo
2) SUPIL = headband
3) HUMBA = Paksiw na Pata
4) ABRILATA = can opener
5) TINUMIS = Dinuguan
7) CUARTA MONEDA = coin purse
8) MALURIT = makulit; paulit-ulit
But not everything was a product of her upbringing.
Some were brought about by auditory learning.
Sometimes, she would just pronounce words the way she heard them like.
One very memorable term for me was borles when she referred to a fish as such.
I even came up with a self-explanation as to why there was this fish she would call as Borles Fish.
I thought maybe it was called a Borles Fish because it has been deboned or left naked, therefore it's borles, same term as burles meaning hubad.
It went like that for several years until one day, one of my aunts visited and brought home the same kind of fish.
I told her that it's my favorite.
Then she said that she also liked that kind of fish because it's easier to eat.
Then she added, "That's why boneless fishes are more expensive than the ones that have bones."
It dawned on me so I asked myself, "She said what fish?"
And that's when finally realized that boneless was a more appropriate term than borles!.
Haha! Si Lola talaga!
The Unlicensed But Effective Doctor
When I was young, I wasn't 100% healthy.
Although chubby, I would have asthma attacks, which happened to run in our blood.
Although some doctors have prescribed medicines to help me and my brother get rid of the attack, still, those were nothing compared to my Lola Rosa's own treatment formula: a tablespoon of honey and pure calamansi extract.
We would feel relieved in no time!
I didn't know if it was the mixture which made us feel well or the love coming from my Lola Rosa.
I also tried using the same formula in the past whenever I would have an attack.
However, I could not get the same relief no matter how many tablespoons I would take.
I still consider this formula as my go-to solution nowadays whenever I would experience any sort of cough but it won't work the same way as before.
The Old-Fashioned Advisor
Our ancestors have the deepest respect to beliefs, urban legends, and superstitions.
My Lola Rosa was not an exemption.
She's full of things to say and stories to share.
She's the one who told me that it's strictly prohibited to take a bath when you're having your period because it would make you go insane.
I once have long believed that because our family have strong foundation on some old-fashioned ideologies.
Until the infamous Bing-Bing, our former labandera, came in the picture.
She told me that she had already proven that belief to be wrong since she had been disobedient for a long time.
In short, she's the one who taught me that taking a bath when the "red flag is up" was okay.

It was, in fact, more advantageous.
I won't blame my Lola Rosa for telling me otherwise because I understood that she's only after my safety.
Apart from that, these were some of the other beliefs that I got from her which I still remember up to this day:
– "Wag hihiga pagkatapos kumain para 'di tubuan ng baso sa tiyan."
– "Wag matutulog ng basa ang buhok para di mabulag."
– "Wag magwawalis sa gabi para 'di lumabas ang swerte."
– "Kumain ng pansit para humaba ang buhay."
– "Magdasal kay San Roque para 'di habulin ng mga aso."
– "Pag umakyat ang dugo sa ulo, siguradong patay ka!"
– "Huwag magsuot ng pula sa burol para 'di dalawin ng namatay."
The Best Caregiver and Crusader
I was only in 1st Grade when I experienced the dreaded Chicken Pox.
Since I could not go to school, I would only stay at home; feeling very sick and uncomfortable.
But my mom and Lola Rosa made it easy and a bit enjoying for me.
I remember her cooking and/or buying comfort food for me then watched me eat while I was watching Nickelodeon just to divert my attention from the discomfort to her delightful treats.
But not only when I was sick when my Lola Rosa would come to the rescue.
She also knew how to keep the unlikely "housemates" out of my way.
She's the bravest person I ever knew who could drive away cockroaches and rats!
She's fierce that's why I felt secured whenever she was around.
No roach could survive her!
She's also never afraid of rats.

She's even fascinated with snakes.

She's one amazing exterminator!
But of all the dreadful elements that she could eliminate, there's only one kind which could threaten her bravado…cold-skinned Lizards!
Yes, she's disgusted by the feel of Lizards' smooth and cold skin.
I remember one time when she screamed at the top of her lungs because two mating Lizards landed on her lap.
She ran away while screaming.
That was a classic sight!
My Most Painful Regret in Life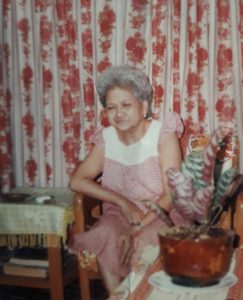 When my mother came home from Riyadh after her 3-year contract, we were still staying with our grandparents and we continued to cherish such wonderful relationship with them.
Fast forward to years after and I found myself graduating from College and starting a whole new life as a professional.
I've been through a lot of struggles in life: relationships, studies, choices to make, rules to break, personality to develop, and dreams to build.
These things made me one of the busiest and most struggling people way back then.
I got so excited with what the future might bring to me and I jumped at almost all the opportunities which came my way.
I failed to realize that as I deepened my focus in the professional world, the more I lacked the time to spend for myself and my loved ones.
I was still in College when my Lola Rosa suffered from a stroke, which eventually made her bed-ridden.
I could still recall the difference that this fatal illness brought to her; physically, emotionally, and psychologically.
During her struggles, I was also caught up with my own personal battles in life.
I got so caught up with my career and my dreams to become successful in my field.
In short, I hardly got the chance to visit my sick Lola Rosa.
I remember some instances of when she would call my attention in which I would pay for short visits just to know how she's doing.
I admit that I could hardly stay because of fatigue and lack of sleep that's why the thought of her missing me so much did not come in to process immediately.
My own quest for success made me feel numb and insensitive to her needs.
And then came year 2007, I got married and was pretty much on-top of my game.
Everything seemed to be falling into place; career-wise and relationship-wise.
Many opportunities have been taken advantage of and wishes have been granted.
At the young age of 25, I was earning more than enough and have slowly but successfully achieved some of my life goals; one thing that I have truly dreamed of when I was younger.
Suddenly, just when I was only a step to becoming that "somebody" even bigger than what I have bargained for, I felt that I wasn't happy at all.
I got confused while feeling guilty at the same time because I was feeling empty amidst all the blessings that I was getting.
It was like reaching the finish line for nothing.
After some time, I finally came to realize that that's not the way I wanted everything to turn out; that money, position, and power weren't just about everything.
I longed for quite a few things: time with my family, time with my friends, and time with myself.
In short, I longed for LIFE!
It felt as if wanting to wake up from over 4 years of sleeping, in which everything was all about work and pursuing my dreams.
It occurred to me that the bigger the chances of me achieving my goals which seemed to matter, the smaller the amount of time I get to spend for things that really do matter.
It was that morning of September 2007 which made my decision to quit from working more concrete.
I could still remember how miserable my Lola Rosa looked that day.
It was simply heart-breaking.
She could no longer speak nor recognize people because of her weakened vision.
Since I've been quite busy minding my work, I barely noticed how fast my Lola Rosa's condition had worsened.
I was caught off-guard.
I even felt a bit mad towards a relative who told me to fix my eyes on my grandmother while she's still alive, because it could be the last.
I walked away and went inside a place where I could be alone.
I couldn't stand the sight so I cried.
I was a bit blaming myself for missing on a lot.
It's hard to witness a loved one suffering from the harsh reality of life.
When I came out of the room, my mom noticed me and asked,
"Bakit? Dahil ba kay lola?"
I nodded and answered in a broken voice,
"Nagulat ako sa lagay ni lola. Hindi ko namalayan na ganyan na s'ya kalala.
Medyo nainis pa ako kay auntie. Tama ba namang sabihin na tingnan ko na raw si lola ng maigi habang buhay pa?
Baka raw kasi hindi na s'ya magtatagal."
Deep-inside I was wanting my mom to answer in her usual,
"'Wag mo na lang pansinin. Ganun lang talaga yun."
But that time I didn't get that kind of response from her.
Although my mom was trying to hide her emotions, I sensed that she wanted to confirm that what my auntie told me moments ago could be true by saying,
"Oo nga e. Sobrang mahina na si lola mo.
Hirap na hirap na s'ya.
Mas lalong humihina habang tumatagal."
Upon hearing those words, I got a confirmation that there's only a little time left for my Lola Rosa.
I got scared thinking that I won't be able to show her how much I loved her by spending her last few days with me.
I wanted to take care of her and reciprocate all the love and care that she'd given me…despite the fact that she won't anymore recognize me.
Without thinking twice on how big a deal I was about to give up, I handed my resignation letter much to my former company's surprise.
As much as I wanted it to be in effect immediately, I couldn't because I still would need to do a lot of hand-over.
And so I settled with October 5th being my last day of reporting (which technically fell on the 6th since I was working on a graveyard shift).
I was quite positive then, until one almost afternoon of October 5th 2007.
I was on my way home when I sent a text message to my mother asking if she cooked something for brunch because I wasn't able to catch dinner earlier at work.
She immediately replied and I was not quite expecting the news that she broke.
My Lola Rosa had just passed away early that morning.
My remaining chance to show my love to someone who very much deserved it suddenly disappeared.
And no amount of money or accomplishment could ever take her back.
I can still remember that moment.
It was during that time when everything in my life started to change, every turn; every direction.
My Lola Rosa's death made me realize how much time I wasted in my life trying to chase things that won't give me the peace that I'd always wanted.
Her death also made me see my mother's current condition.
My mother who was also ageing without me even noticing it.
That's the only time when I started examining my life more closely.
And I promised myself that I would never ever let the same thing happen to my mother.
I didn't want to have another sad story of "I could've and I should've" in my life's book.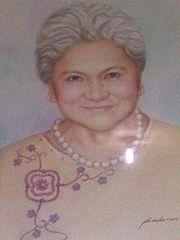 To my Lola Rosa, I know where you are and I know you are happy and contented with the Lord.
I know you are always listening and watching over us, protecting, still caring.
I wanted to thank you for all the things you have given and taught me.
I am who I am greatly because of you.
I might have not told you how much I cherished all the moments we shared together but, I guess, sometimes it counts more when someone remembers than says.
Most of all, I wanted you to know how proud I am of you and I have the deepest respect for you.
Now I know why I have the best mother…because she came from the best grandmother.
I love you, Lola Rosa! I missed you so much!
---
For more stories and information please:
– click Pieces to see all the articles in this blog
– like Piece of Mind Facebook Page
– subscribe to my SimpliciTine YouTube channel
Follow, Like, and Subscribe!