This article will introduce you to Lazada Wallet.
I am a fan of online shopping and I'm the type who spends time browsing through online catalogs and reading reviews to make sure that I am getting my hard-earned money's worth.
If I were to add an adjective to describe the type of an online shopper I am, the best one should be "frugal" because I always exercise frugal shopping when buying online.
My favorite online shopping platform is Lazada because of the very wide selection of items that I can find.
Whenever I needed to buy something, the first step that I perform is opening my Lazada app and, within minutes, I'm able to find the item that I'm looking for.
We all know that items in Lazada are always discounted and that's one of the reasons why I'm such a fan.
For someone who's frugal like me, getting the most out of your money is a very wonderful thing.
That's why I was so happy to have found yet another way for me to make my online shopping as frugal as possible: by using the Lazada Wallet.
Lazada Wallet is the digital wallet of Lazada which allows you to make electronic transactions such as:
Purchasing online
Use promotional coupons
Receive refunds
Below are some of the benefits of using the Lazada Wallet:
It's fast, convenient, and secure
You can receive refunds faster (24-48 hours)
You can take advantage of exclusive vouchers and promotions
I don't need to pay extra when loading up my wallet because there's no corresponding when doing so.
It is also convenient because there are many top-up options available:
Bank Account (by linking your active BPI account)
Over-the-counter outlets

7-Eleven
TrueMoney
M Lhuillier
SM Bills Payment

Bank Transfer
Click this link to get to know more about this.
For a good start, you can also take part in this ongoing Referral Game in which you can earn up to P300/day by asking your family and friends to start using the digital wallet for a more convenient and efficient online shopping.
Sample Frugal Shopping Through Lazada Wallet
---
AFFILIATE DISCLOSURE: This post is not sponsored. However, it may contain some affiliate links. If you purchased something through one of those links, I would get a small commission which would help me maintain this blog.
---
We have been wanting to buy a sound bar to be placed in our living room.
Since it's a little pricey, we never really had any solid plans of buying one until we saw this Platinum Soundbar which has been getting a lot of good reviews online (rated as 4.5 stars with 258 real customer reviews).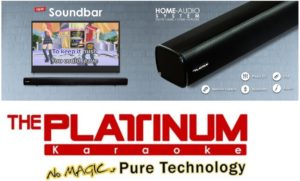 I also wanted to buy this for our 1 year old baby, Bleu, to allow her to listen to music and reduce screen time.
This sound bar would be a good alternative to entertain our little one.
I could start playing songs and sounds that would encourage her to start appreciating music at an early age.
So How I Reduced the Price of this Sound Bar by 24%?
The original price of this sound bar was P2,999.00 but this item was already discounted by 13% that's why the posted price was P2,599.00.
But because I used Lazada Wallet, I got this for only P1,969.15.
This happened not because I begged the seller, but because of the following exclusive promotions which I was able to take advantage of by of purchasing through the digital wallet:
12% BONUS CREDIT BY CASHING-IN ANY AMOUNT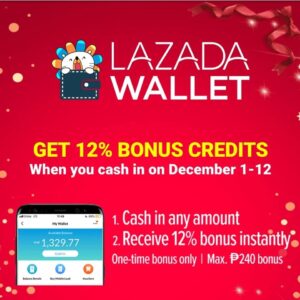 Instead of loading P2,599.00, I only cashed-in P2,000 because I was qualified to receive 12% bonus credits by simply cashing-in any amount.
I wanted to get the max bonus amount of P240.00 that's why I cashed-in P2,000.
The cash-in activity was almost instant and I immediately received the P240.00 bonus in my wallet as well.
My digital wallet was updated with P2,240.00 load.
My money would have been short by P359.00 to purchase the sound bar but the next promotion saved the last dance for me 🙂
2. PAYDAYWALLET15
Here's another Lazada Wallet Exclusive promotion.
I was qualified for this promo because the sound bar's price was above P2,000.00.
This promo code took out another P389.85 from the price!
In the end, because of these 2 exclusive promo codes, I was able to purchase the sound bar for only P1,969.15.
Meaning, I saved about P600+ by simply purchasing through the digital wallet without paying for any extra fee.
Awesome!
NOTE: This promo code PAYDAYWALLET15 was only valid until December 2, 2018.
But keep on checking the Lazada Wallet page to get updated with new promo codes for the best deals that await.
3. LAZWALLET12
Anyway, here's another promo code that you can use to get 12% discount on each order without minimum spend.
All you need to do is use your Lazada Wallet to pay for the item and use the promo code LAZWALLET12 upon checking out.
This is valid until December 31, 2018.
---
So, there you have it!
Online shopping should not always hurt your budget.
With the fast growth of e-Commerce, we are not only given a lot of options where to spend our money, but also options to spend our hard-earned money wisely by allowing shoppers to save a good amount without the need to deal with complicated process.
And if you're like me, who finds so much happiness in saving even a small amount, the option of putting your purchasing power through the Lazada Wallet is something which you should start considering immediately.
---
How about you?
What is your frugal shopping story?
Let us know in the comments.
---
For more stories and information please:
– click Pieces to see all the articles in this blog
– like Piece of Mind Facebook Page
– subscribe to my SimpliciTine YouTube channel
Follow, Like, and Subscribe!