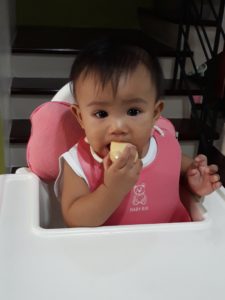 In this article, I'm sharing my baby's experience during Baby Weaning Stage 2 at 8 months.
After successfully completing Weaning Stage 2: Vegetable Series, when Bleu ate 10 different vegetables in 30 days, we went straight to Stage 2: Fruit Series upon reaching her 8th month.
I was really excited to enter this stage because I had plans of not just giving my baby solid fruits but also some treats like fresh juices and fruitsicles (fruit popsicles).
We once again followed the Pedia's advice to apply the 3-Day Rule which is an approach that allows the baby to fully experience each type of fruit by allowing the baby to appreciate it in 3 straight days.
The main goal of this rule is to determine if the baby would develop any allergic reaction towards a certain fruit type.
We followed this rule religiously and, thankfully, Bleu did not show any sort of allergic reactions.
The quality of her poop was also good and stable.
And since I'm always having fun documenting my baby's reactions upon tasting each and every fruit for the very first time, I was able to create another compilation.
I'm sure that my baby would appreciate to see this once she's grown up.
Watch the full video below.
List of 10 Fruits in 30 Days
These were the 10 types of fruits which Bleu tried in 30 days (in particular order):
DAY 1-3: Fruit #1 Banana
DAY 4-6: Fruit #2 Papaya (Bleu's favorite!)
DAY 7-9: Fruit #3 Mango
DAY 10-12: Fruit #4 Apple
DAY 13-15: Fruit #5 Avocado
DAY 16-18: Fruit #6 Watermelon
DAY 19-21: Fruit #7 Kiwi (Bleu's least favorite)
DAY 22-24: Fruit #8 Pear
DAY 25-27: Fruit #9 Melon
DAY 28-30: Fruit #10 Grapes
Treats and Milestones
As I was planning, apart from making sure that Bleu gets to try all the fruits that I wanted her to have, I also prepared her some fresh juices out of the same fruit that she was having on that particular period.
Her doctor recommended to give her a daily serving of 2oz-4oz of freshly-squeezed orange juice apart from the regular meals that she's having.
Here's a simple video I created to share with you the recipe and how I prepare it.
And apart from Orange juice, I was also able to give her fresh Watermelon juice and Grape juice which she enjoyed.
I even had the chance to make her some Watermelon fruitsicles (fruit popsicles) to help her soothe some teething discomforts since she's growing her 5th tooth!
Watch the clip below to see how these Watermelon fruit popsicles were made and how my baby reacted.
It was also during this stage when Bleu started showing more and more confidence and independence during mealtime.
On Day 27th when she was scheduled to have pear during her meal, I tested her ability to pick-up a fruit chunk by giving her a piece of the fruit.
To my delight, she immediately showed the instinct to pick it up and put it in her mouth to eat.
It was a proud moment for me, however, it was also scary because of the high tendency for the baby to gag in case of biting a large piece of the fruit.
This is the reason why super close supervision is required for these types of activities.
I was looking at my baby's face the whole time while she's doing it because I was trying to spot any change in her reaction so that I could perform an immediate first aid in any case of choking and/or difficulty in breathing.
There were a few times when she would gag and there were tears even but she would continue to bite.
I was thankful for the videos I've seen and articles I've pre-read in order to prepare for such activity because I would have freaked-out the moment I saw some gagging.
But good thing I knew that gagging is a normal part of the process.
It also helped to know the difference between gagging and choking at this point.
Ready for Baby Weaning Stage 2: Mixed Food Groups
Overall, Baby Weaning Stage 2: Fruit Series was also a success. But the most important thing was the fact that my baby enjoyed the whole journey as much as we did.
So Bleu is now ready to enter Stage 2 of Baby Weaning: Mixed Food Groups once she's reached her 9 month.
She actually started to eat "plain lugaw" or "plain congee" on Day 17th of this journey and she also showed readiness so I'm pretty sure that we won't have any problems transitioning her to a more complex set of food — meat and poultry!
And as always I'm once again excited to discover her new favorites and prepare her some treats which she would surely enjoy.
My camera is always on stand-by!
---
Do you also have some Baby Weaning best practices which you would like to share?
What's your baby's favorite fruit?
What did you discover about your baby throughout the whole process?
Feel free to comment below for your answers.
---
For more stories and information please:
– click Pieces to see all the articles in this blog
– like Piece of Mind Facebook Page
– subscribe to my SimpliciTine YouTube channel
Follow, Like, and Subscribe!